When you're operating in environments where flammable or explosive gases, vapors or dust may be present, you should consider communications equipment certified for use in a Hazardous Location – often called "HazLoc".
EXPIRING STANDARD
The established Factory Mutual standard FM3610_88 expired in 2012. Radios certified to FM3610_88 will be phased out of production in December 2015. Motorola will be adapting to a new TIA-4950 standard for Hazardous Location certification of two-way radios, which is similar to the FM3610_88 standard. Compliance testing will be done by UL (Underwriters Laboratories).
FM approved radios that are deployed in the field will maintain their FM Intrinsically Safe approval status, provided that any service and repairs are done at an FM audited repair facility.
NEW MARKINGS
ASTRO 25™ and MOTOTRBO™ Radios and batteries certified to TIA-4950 have been available since Q1 2015. They are labelled clearly with the new UL markings.
ACTION REQUIRED
Ensure that your facility documentation defines Hazardous Location requirements in terms of Division, Class and Group rather than simply "FM Approved" or "Intrinsically Safe". Knowing the specific Hazardous Locations classification is important in selecting equipment that is approved for use in those environments.
*TIA: Telecommunications Industry Association
HAZLOC CLASSIFICATION
Hazardous locations can be found in many industries, including refineries, fuel storage facilities, chemical plants, grain elevators and plastics processing plants. The National Electrical Code (NEC) NFPA 70 defines hazardous locations as areas "where fire or explosion hazards may exist due to flammable gases or vapors, flammable liquids, combustible dust, or ignitable fibers or flyings."
Equipment manufacturers do not determine the need for "HazLoc" products, or evaluate the environment in which the radios will be used. The Hazardous Location classification is determined by the Authorities Having Jurisdiction (AHJs) over the particular facility, for example the fire marshal, insurance provider or facility safety expert.
NATIONAL ELECTRICAL CODE (NEC) NFPA 70
Classes
Class I: Flammable Gases, Vapors, or Liquids
Class II: Combustible Dust
Class III: Ignitable Fibers and Flyings
Division (Area Classification)
Division 1: Locations where ignitable gas/vapor/liquid/dust are present continuously or some of the time under normal operating conditions
Division 2: Locations where ignitable gas/vapor/liquid/dust are not likely to exist under normal operating conditions
Groups (Organized by Classes)
Class I Gas Groups
Group A - Acetylene and equivalent gas groups
Group B - Hydrogen and equivalent gas groups
Group C - Ethylene and equivalent gas groups
Group D - Methane and equivalent gas groups
Class II Dust Groups
Group E - Conductive dust (mechanical – factories, recyclers)
Group F - Combustible carbon dust (charcoal & coke dust) - above ground only
Group G - Grain dust
Class III Fibers has no sub-groups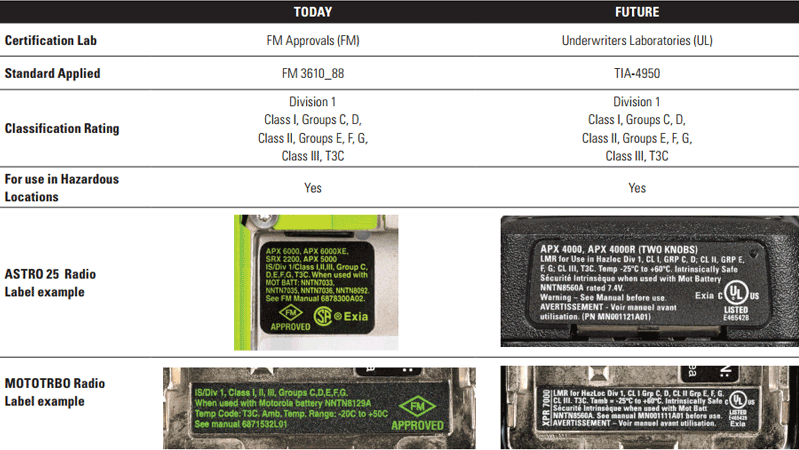 For more information, please contact us
DOWNLOADS: